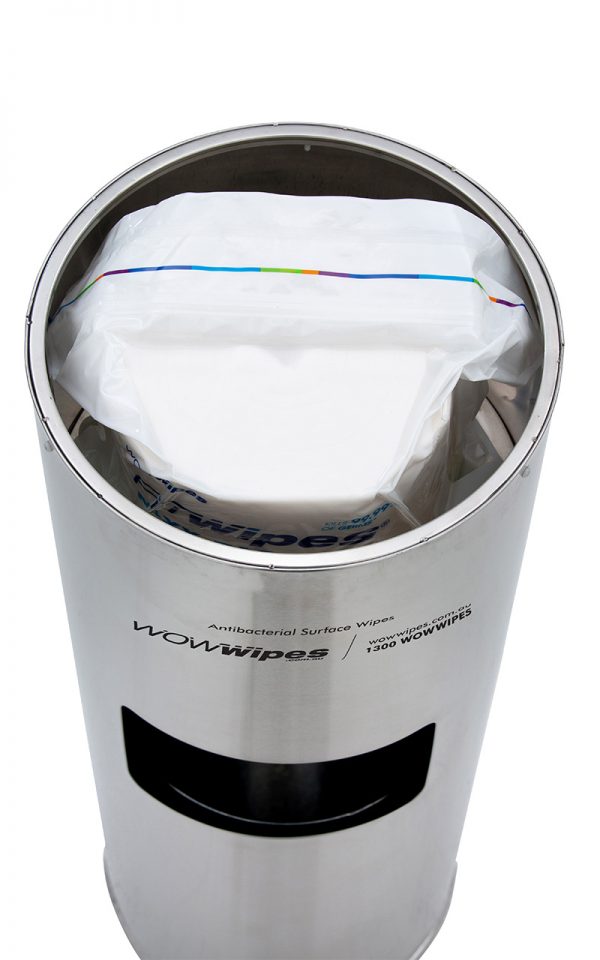 4 x 1200 'MAXX-PACK' Antibacterial Wipes + Stainless Steel Dispensers 1200SP4
$677.00
Description
Additional information
Description
2 x Raw Stainless Steel Floor Dispenser + 1 x Maxx-Pack Carton
The Maxx-Pack Antibacterial Wipes are our most economical Wipes option, and our best seller.
Our MAXX-PACK Antibacterial Wipes utilise a slightly thinner version of the 'Premium' Antibacterial Wipes fabric so we can pack an extra 1560 wipes into each carton (390 extra wipes per roll)*
4 x 1,200 count rolls per carton (4,800 wipes total)
High Wipe count = less cost, less frequent ordering, and less time required from staff to replace rolls
Strong diamond embossed wood-pulp fabric*
Same fresh lemon scent and antibacterial formula as our 'Premium' Antibacterial Wipes.
Our premium wipes dispenser. A heavy-duty functional solution for when you have limited wall space

304 grade stainless steel
Inbuilt waste bin below the Wipes
Low maintenance – Minimal moving parts
Silicone nozzle for effective wipes dispensing
Freestanding versatility – change location whenever suits
Magnet latch for rear door waste bin access
Easily holds all our bulk rolls – MAXX-PACK and Premium AntibacterialWipes + Office Wipes + Fitwipes Bamboo
*During the Covid19 period, our usual fabric has become temporarily unavailable as it is being diverted to facemask and PPE production.  We are using an alternative fabric which will continue until our standard fabric becomes available again soon.  IMPORTANT:  The antibacterial/germ killing properties of the wipes is unchanged.
**WOW Wipes kill germs, they have been tested by a TGA registered Australian laboratory against Coronavirus (surrogate), Influenza A, E. coli, S. aureus – all with positive results and a 99.9%-99.999% reduction in pathogens.  **S.aureus, E.coli
Free Freight for all orders over $600
PRICE EXCLUDING GST
Additional information
| | |
| --- | --- |
| Weight | 47 kg |
| Dimensions | 42 × 42 × 90 cm |