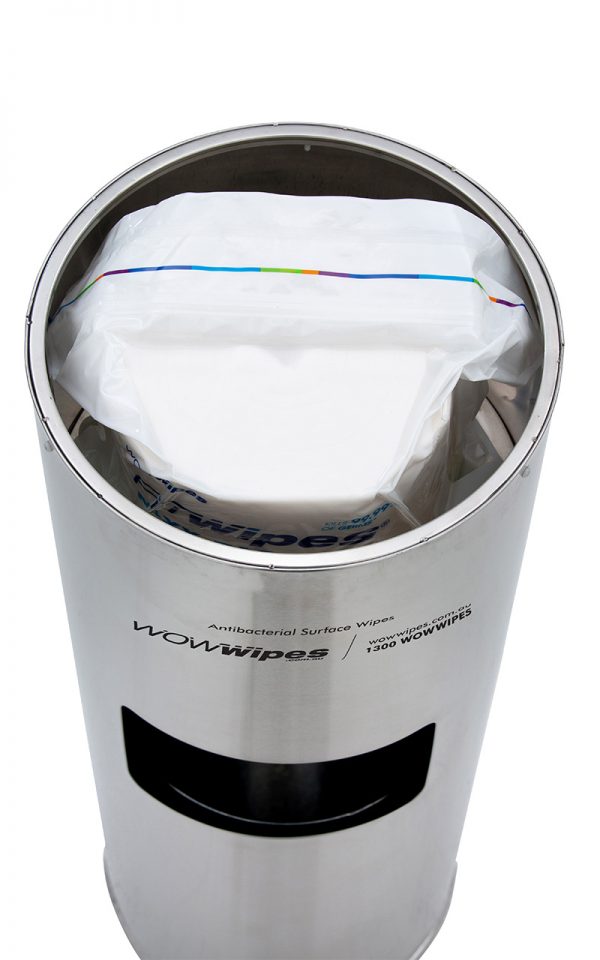 4 x 800 WOW Wipes Bamboo + Stainless Steel Dispenser WBSP3
$338.00
Save $90
Description
The perfect way to keep your workplace, office,  home,  gym or fitness facility germ free. By providing your WOW Wipes Bamboo in our easy to access bulk dispensers you can minimize the risk of introduction or transmission of infection,
4 x 800 count rolls per carton (3,200 wipes total)
Eco Friendly Bamboo fabric – 100% Biodegradable 20cm x 15cm
Fresh lemon scent
Kills 99.99% of germs
Stainless Steel Floor Dispenser – Our premium wipes dispenser. A functional solution for when you have limited wall space
Inbuilt waste bin
Low maintenance – Minimal moving parts
Freestanding versatility – change location whenever suits
Carton weight 21kg
Roll weight 5kg
Dimensions – Carton of wipes 42cm W x 42cm D x 22cm H
Dimensions – Stainless Steel Dispenser 35cm W x 35cm D x 90cm H
Stainless Steel Dispenser weight 12kg
More reasons to use our WOW Bamboo Wipes:
100% Bamboo
Super soft, yet strong
Highly absorbent
Alcohol free, Hypoallergenic
Check out our FAQs to see more about why we choose 100% Bamboo wipes.
PRICE EXCLUDING GST