Now that you've explored our range of antibacterial wet wipes 'starter packs', it's time to read a little more in-depth about the benefits of each of our cleaning wipes.
At WOW Wipes, we pride ourselves for the high-quality standard of each multi-surface wipe, as well as, being able to service client's across Australia with our:
But it doesn't end there! Not only do we provide a biodegradable cleaning wipes option, we can also ensure that all our products DO NOT contain harmful chemicals. We're proud to offer some of the safest antibacterial wipes in the market and will continue to strive to be the leading disinfecting bulk wipes supplier within the industry.
So, if you're searching for a safe cleaning wipe option and would like to know the benefits of our varied range, continue reading on!
Antibacterial Wipe Solutions
Multi-Surface | Office Wipes Bamboo
A perfect biodegradable cleaning wipe to maintain a fresh and clean office or home. Who wouldn't love disposable wipes that are alcohol-free, super soft, highly absorbent and 100% bamboo? Yes, this does make our office cleaning wipes favourable to the environment. Green thumbs love it and so will you. So, what are you waiting for? Get a hold of our desk cleaning wipes today and notice the convenience and germ-free difference!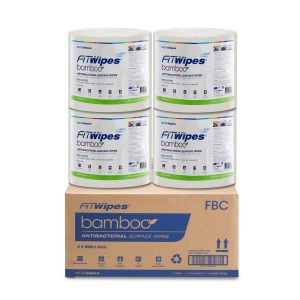 Safe on the hands and stops nasty germs in their tracks. Our bamboo cleaning wipes are a must-have in any fitness facility. We've worked hard to produce a highly effective bio wipe formula, to ensure your gym and fitness equipment is a safe and clean environment for the health of all members. Searching for disinfecting wipes for your fitness facility? Go no further than our biodegradable, gym equipment wipes that will keep your gym 99.99% germ-free.
Would you like to offer a more premium-feeling gym cleaning wipe for your business? Our premium range of gym wipes supplies is the original WOW Wipes product, suited for customers who would love our classic 'heavy-duty' exercise equipment wipe. The diamond embossed wood-pulp fabric feels slightly thicker to touch, accompanied by a fresh lemon scent when wiping away sweat and harmful bacteria.
We wouldn't be a leading gym wipes supplier if we didn't offer an economical fitness wipe solution for all of our clients! Introducing the Maxx Pack FitWipes product, utilising a slightly thinner version of the 'premium' gym wipes fabric. It's one of our best-selling products, allowing businesses to deliver the same high-quality experience at a lower cost. Designed for all gyms and fitness facilities, grab a Maxx Pack today and wipe away harmful bacteria with ease.
Thank you for introducing us to your antibacterial wipes system. They are so convenient and easier than using spray bottles with paper towels.
Get answers to your specific enquiries here!